Charming Star
Face Painting!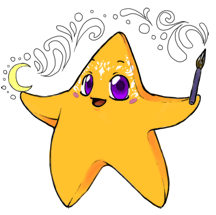 Home ... Gallery ... Prices ... Contact
Welcome to Charming Star Face Painting! I'm glad you stopped by! If you're looking for a great face painter at a great, reasonable cost, you've found it: ME! I am an artist by trade, so all my "face" paintings will reflect that :). You will not get cheesy, bad looking art on your childs face. All the information on how much I charge and how to schedule/contact me are in the links above. Feel free to contact me any time! Thank you for coming, and I hope you choose me for your next event!!
Thanks Patterncooler for the awesome background!